Light is a key factor to present the products of any type of commerce in the most attractive way for the customer. The correct illumination of food in fresh produce stores such as butchers or fishmongers, makes the goods on display look better, something essential to ensure the sale.
How to improve meat and fish presentation
Obviously, the quality of the product itself is the main factor in making it look attractive to shoppers. Even so, poor quality or inadequate lighting can have a very negative influence on the appearance of meat, fish and other products.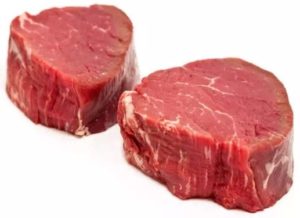 Conventional fluorescent lighting, in addition to consuming twice as much as its LED counterpart, emits a significant portion of the light in wavelengths that correspond to green and yellow tones. This makes, for example, a steak appear brown and its fat streaks yellowish.
LED illumination of fresh food
We have talked at length about the advantages of LEDs and their various applications. In today's topic, we can highlight in particular the energy efficiency of this type of lighting, which is linked to minimal heat emission. This is especially important since, in the case of fresh products, the heat generated by other types of lighting can spoil them or, if they are in a refrigerated chamber, increase the consumption of electricity needed to keep them at an optimum temperature.
Special LED tubes for meat and fish
In our online lighting store we have a range of LED tubes for butchers and fishmongers specially designed for this kind of establishments. This type of luminaires emits a pinkish light tone that enhances the appearance of the product to make it more pleasing to the eye.

On the other hand, they are designed for installation on shelves, including refrigerated shelves, and have an IP44 protection factor which protects them from humidity.
Don't let poor quality lighting affect your sales and take advantage of the many benefits of using LED lighting.