Having a well-lit work area, whether for studying or working, is very important. An LED flexo lamp is the best ally for students and, in fact, for anyone who works at a desk. We must take into account some details when choosing the most suitable one. With this small article we will try to help you choose the perfect flexo.
The most important thing to consider when choosing a desk lamp is whether it provides enough light. You must know how much light you are going to need in the work area and consider if it is going to be the only light available or if it is going to be complementary to the general light, whether it is natural or not. We must always keep in mind that the flexos are functional lamps that illuminate a very specific space and for that reason, it is not usually necessary that they are of great power.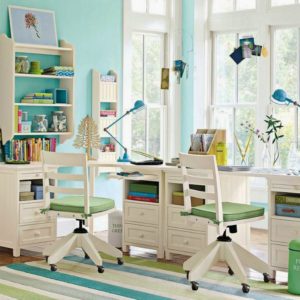 Choosing the perfect lamp for each use
If you have a small work area, or if you have a computer or other elements that take up space on the same desk, the ideal would be a compact, compact desk lamp with a small arm or arms, since you will not need light on a large part of your desk. If, on the other hand, you have a large desk, an articulating arm lamp would be the best option. This way we can easily adapt the light according to our needs by adjusting the position of the light bulb.
Cold light improves concentration and is the most commonly used option for lighting work areas.
And last but not least, know which type of bulb to choose. LEDs are clearly the best choice. They provide a clear light, do not cause eyestrain, do not produce heat, produce more light intensity and save energy compared to halogen, incandescent and energy-saving bulbs.
Types of flexos
In Ledkia we have different models to choose the perfect flexo LED lamp for you:
Multifunction LED Flexo
They are so called because of the different functions they offer. They have a LED screen that shows a digital calendar with day and month, thermometer (ºC) and alarm with several configuration options. There are models with USB connection, which facilitates battery charging, to be connected to the network or to any device with USB input. They are ideal for offices, bedrooms and even hotels.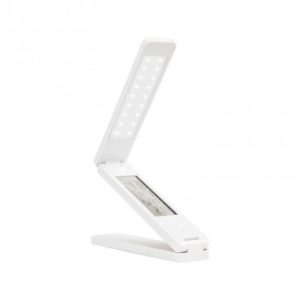 LED Flexo Desk Lamp
This type of table lamp is undoubtedly the most traditional model. Generally speaking, they have heads that can be adjusted from 90º to 360º on both the vertical and horizontal axis, depending on the model.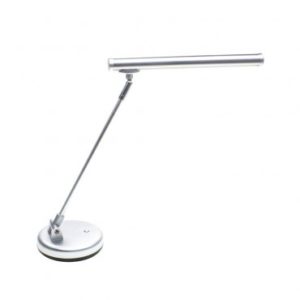 Clip-on LED Flexo
This is a highly functional model with a very modern design. It has two buttons to regulate and control its operation. The first has three positions: off, on with warm white light temperature and on with cool white light temperature. The second button allows to regulate the intensity of the light in two levels. It is anchored to the work surface by means of a clamp that allows us to place this lamp anywhere. In addition, thanks to its flexible body, its shape can be adjusted to light the area where it is needed.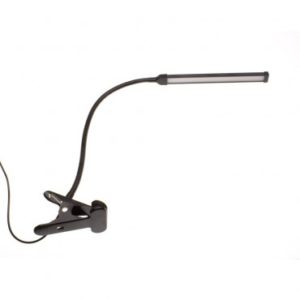 USB LED light bulb
This is the most compact solution and is specially designed for people who work in front of the computer. As the name suggests, it plugs directly into a USB socket. It provides a neutral white light, and has the great advantage of being very convenient to carry and very handy to use.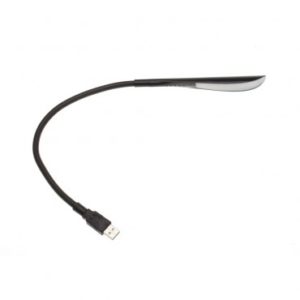 Study lamps
When choosing a study lamp or flexo we must be aware of the lighting needs that this activity requires.
Obviously, we need a powerful and preferably cold light since this type of lighting will help us to maintain concentration.
It is essential that we can adjust the location of the flexo spotlight (height, inclination, etc.) as this will help us to avoid annoying glare.
Finally, it should be noted that the rest of the room should be well lit to avoid shadows on the work surface.
We hope that this small guide has been of help to you when choosing the perfect lamp for each situation.